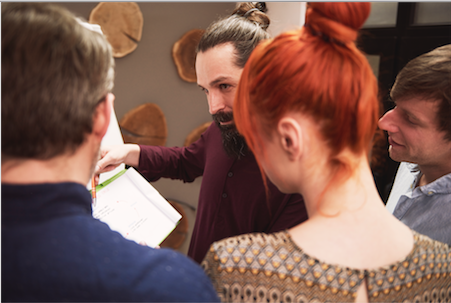 What is AIM?
Applied improvisation (AIM) is an emerging field that applies the principles of improvisational theatre to other contexts. When taught through a specialized, experiential learning program led by a proficient instructor, participants learn specific types of thinking that can be implemented even by those new to improvisation.
Boston Strategy Group—the first professional educational service firm to specialize in AIM—is focused on bringing professionalism to an innovative new market that remains fragmented. To fuse AIM experts to serve organizations throughout New England, we have developed programs to enhance the abilities of individuals and organizations to react in the moment, adapt to the unexpected, and navigate complex challenges without the assistance of a script. We treat the principles of AIM with the seriousness that they deserve, and in doing so, we aspire to elevate the field's reputation through consistently high-quality programs supported by exhaustive research.
Training Modality
Applied Improvisation (AIM) is a training and facilitation modality using principles of improvisational theatre and applies them in other contexts to develop people's capacity to improvise, adapt, move without a script and be effective in the unknown
Theater Origins
AIM emerged from theatre studies and has now moved into humanitarian and psychosocial practice. The Literature offers a myriad of descriptions of these principles and skills they support (Gesell 1997; Halpern, Close and Johnson 1994; Johnstone 1992; Koppett 2013; Poynton 2008; Ryan-Madson 2005; Spolin 1999; Tint 2015).
Dealing with Uncertainty
The ability to confidently improvise – use existing skills and knowledge with available resources to respond in the moment – is a capacity worth developing in contexts dealing with uncertainty and change.
Experiential Learning
AIM may be perceived as just playing, yet the playful activities themselves are a vehicle for learning and developing vital skills and understanding the improvisational principles. Facilitators will use the activities with different goals in mind. In most AIM work, activities and exercises are used intentionally to explore multiple dimensions of experiential learning through three stages of preparation, participation and debrief. For participants, this opens up possibilities for different ways of engaging, thinking and feeling
Frequently Asked Questions