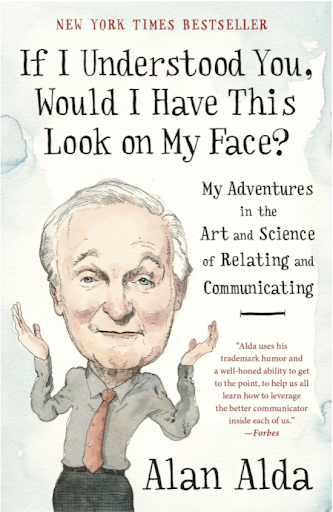 If I Understood You, Would I Have This Look on My Face?: My Adventures in the Art and Science of Relating and Communicating
By Alan Alda
June, 2017
Alan Alda has been on a decades-long journey to discover new ways to help people communicate and relate to one another more effectively. If I Understood You, Would I Have This Look on My Face? is the warm, witty, and informative chronicle of how Alda found inspiration in everything from cutting-edge science to classic acting methods. His search began when he was host of PBS's Scientific American Frontiers, where he interviewed thousands of scientists and developed a knack for helping them communicate complex ideas in ways a wide audience could understand—and Alda wondered if those techniques held a clue to better communication for the rest of us.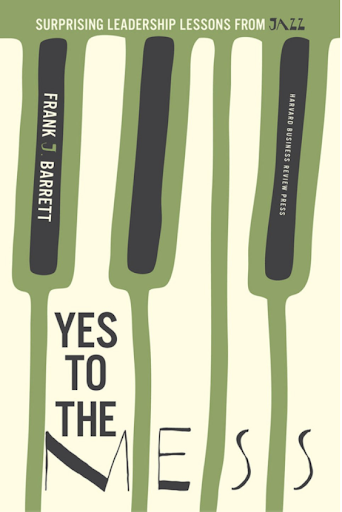 Yes to the Mess: Surprising Leadership Lessons from Jazz
By Frank J. Barrett
August, 2012
How do you cope when faced with complexity and constant change at work? Here's what the world's best leaders and teams do: they improvise. They invent novel responses and take calculated risks without a scripted plan or a safety net that guarantees specific outcomes. They negotiate with each other as they proceed, and they don't dwell on mistakes or stifle each other's ideas. In short, they say "yes to the mess" that is today's hurried, harried, yet enormously innovative and fertile world of work.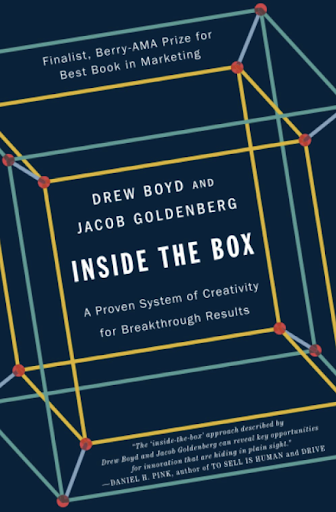 Inside the Box: A Proven System of Creativity for Breakthrough Results
By Drew Boyd and Jacob Goldenberg
June, 2014
The traditional attitude toward creativity in the American business world is to "think outside the box"—to brainstorm without restraint in hopes of coming up with a breakthrough idea, often in moments of crisis. Sometimes it works, but it's a problem-specific solution that does nothing to engender creative thinking more generally. Inside the Box demonstrates Systematic Inventive Thinking (SIT), which systemizes creativity as part of the corporate culture. This counterintuitive and powerfully effective approach to creativity requires thinking inside the box, working in one's familiar world to create new ideas independent of specific problems. SIT's techniques and principles have instilled creative thinking into such companies as Procter & Gamble, Johnson & Johnson, and other industry leaders. Inside the Box shows how corporations have successfully used SIT in business settings as diverse as medicine, technology, new product development, and food packaging.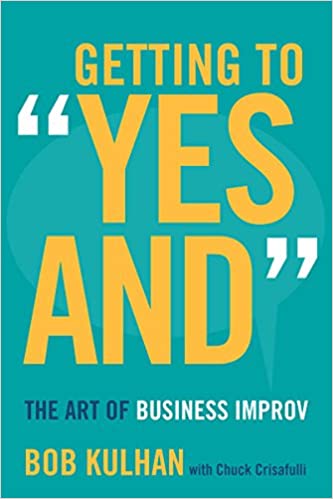 Getting to "Yes And": The Art of Business Improv
By Bob Kulhan
January, 2017
Amidst the deluge of advice for businesspeople, there lies an overlooked tool, a key to thriving in today's fast-paced, unpredictable environment: improvisation. In Getting to "Yes And" veteran improv performer, university professor, CEO, Bob Kulhan unpacks a form of mental agility with powers far beyond the entertainment value of comedy troupes.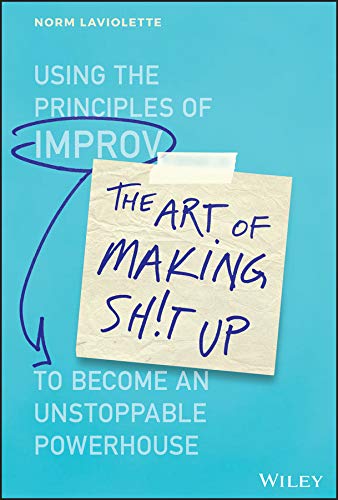 The Art of Making Sh!t Up: Using the Principles of Improv to Become an Unstoppable Powerhouse
By Norm Laviolette
May, 2019
The Art of Making Sh!t Up combines the lessons learned from a personal journey with the teachings derived from years of honing valuable skills through performing and presenting to thousands of people to demonstrate how working together has helped others found and grow several multimillion-dollar companies.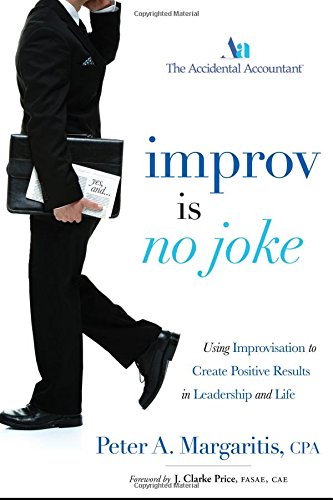 Improv Is No Joke: Using Improvisation to Create Positive Results in Leadership and Life
By Peter Margaritis
April, 2015
Improve your life, where everything's not made up and the points do matter. Drew Carey's show Whose Line Is It Anyway? has turned improvisational comedy into a pop culture phenomenon. But improv is more than just laughs―it's a valuable training tool that will make you a more effective business professional. Inside, you will discover how to: Š Replace negative phrases like "Yes, but…" with successful terms like "Yes, and…" Š Park your agenda and really hear your client out. By listening to understand, you can adapt to their ideas and produce a more positive outcome. Š Grow your client relationships beyond the numbers to build rapport, comfort, and trust. Improv is no Joke is must-read for accountants, bankers, and other financial professionals to sharpen the invaluable leadership and communication skills you need to successfully relate to clients and communicate complex information in a user-friendly way.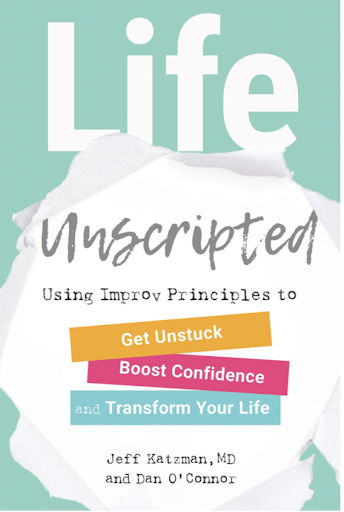 Life Unscripted: Using Improv Principles to Get Unstuck, Boost Confidence, and Transform Your Life
By Jeff Katzman and Dan O'Connor
September, 2018
So many of us go through life following scripts we didn't write for ourselves – scripts designed by our family, shaped by our friends, and influenced by the expectations of the people we meet. Using practical self-help skills rooted in improv principles and depth psychology, we can live more authentic, fulfilled, and empowered lives.e crisis.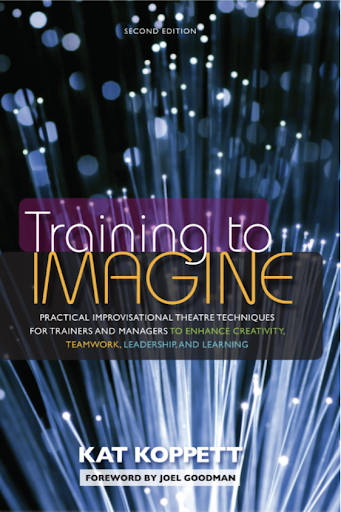 Training to Imagine: Practical Improvisational Theatre Techniques for Trainers and Managers to Enhance Creativity, Teamwork, Leadership, and Learning
By Kat Koppett
October, 2012
Creating innovative products and game-changing processes and adapting to new cultures and communication styles have all become imperative for life and work in today's environment. Today's business and non-profit leaders, from Fortune 500 companies on down, have discovered the value of improvisational theatre techniques to develop creativity and the collaboration skills they need.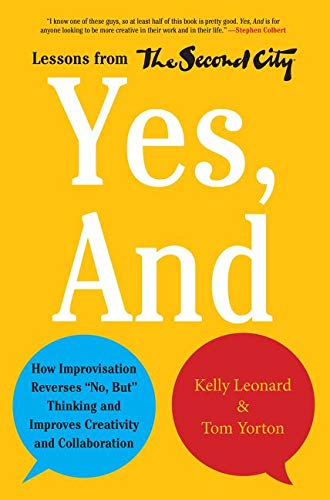 Yes, And: How Improvisation Reverses "No, But" Thinking and Improves Creativity and Collaboration–Lessons from The Second City
By Kelly Leonard and Tom Yorton
February, 2015
The rules for leadership and teamwork have changed, and the skills that got professionals ahead a generation ago don't work anymore. Now The Second City provides a new toolkit individuals and organizations can use to thrive in a world increasingly shaped by speed, social communication, and decentralization. Based on eight principles of improvisation, Yes, And helps to develop these skills and foster them in high-potential leaders and their teams.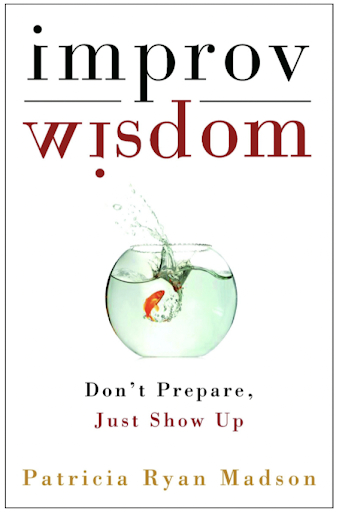 Improv Wisdom: Don't Prepare, Just Show Up
By Patricia Ryan Madson
May, 2005
Let's face it: Life is something we all make up as we go along. No matter how carefully we formulate a "script," it is bound to change when we interact with people with scripts of their own. Improv Wisdom shows how to apply the maxims of improvisational theater to real-life challenges—whether it's dealing with a demanding boss, a tired child, or one of life's never-ending surprises. Patricia Madson distills thirty years of experience into thirteen simple strategies, including "Say Yes," "Start Anywhere," "Face the Facts," and "Make Mistakes, Please," helping readers to loosen up, think on their feet, and take on everything life has to offer with skill, chutzpah, and a sense of humor.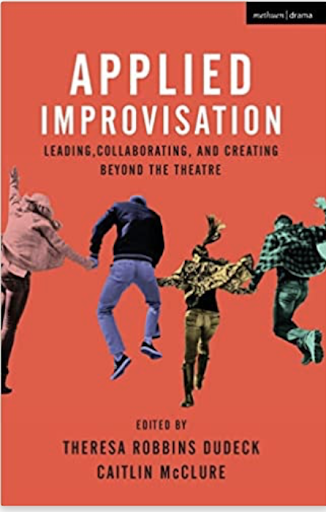 Applied Improvisation: Leading, Collaborating, and Creating Beyond the Theatre
By Theresa Robbins Dudeck and Caitlin McClure
April, 2019
This collection of Applied Improvisation stories and strategies draws back the curtain on an exciting, innovative, growing field of practice and research that is changing the way people lead, create, and collaborate. Applied Improvisation is the umbrella term widely used to denote the application of improvised theatre's theories, tenets, games, techniques, and exercises beyond conventional theatre spaces, to foster the growth and/or development of flexible structures, new mindsets, and a range of inter and intra-personal skills required in today's volatile and uncertain world. This edited collection offers one of the first surveys of the range of practice, featuring 12 in-depth case studies by leading Applied Improvisation practitioners and a foreword by Phelim McDermott and Lee Simpson.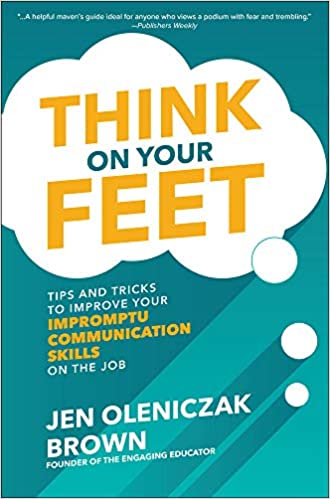 Think on Your Feet: Tips and Tricks to Improve Your Impromptu Communication Skills on the Job
By Jen Oleniczak Brown
November, 2019
Improv isn't about winging it or flying by the seat of your pants; improv at its core is about listening and responding. It's based on rules and techniques, and it taps directly into your soft communication skills. By incorporating it into your prep work for professional situations, you'll learn how to retrain your brain for the unexpected and get out of your own way in those unexpected―and expected―professional situations. Practicing improv isn't about being funny. Instead, it's about developing the mental agility to spin any surprise in your favor and to communicate with confidence.