BSG in Media
Articles Written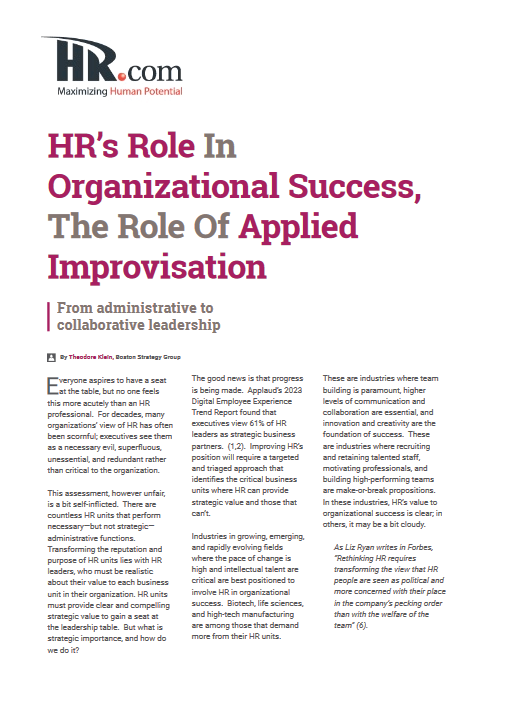 HR's Role In Organizational Success, The Role Of Applied Improvisation (www.HR.com)
June, 2023
Everyone aspires to have a seat at the table, but no one feels this more acutely than an HR professional. For decades, many organizations' view of HR has often been scornful; executives see them as a necessary evil, superfluous, unessential, and redundant rather than critical to the organization.
This assessment, however unfair, is a bit self-inflicted. There are countless HR units that perform necessary—but not strategic— administrative functions. Transforming the reputation and purpose of HR units lies with HR leaders, who must be realistic about their value to each business unit in their organization.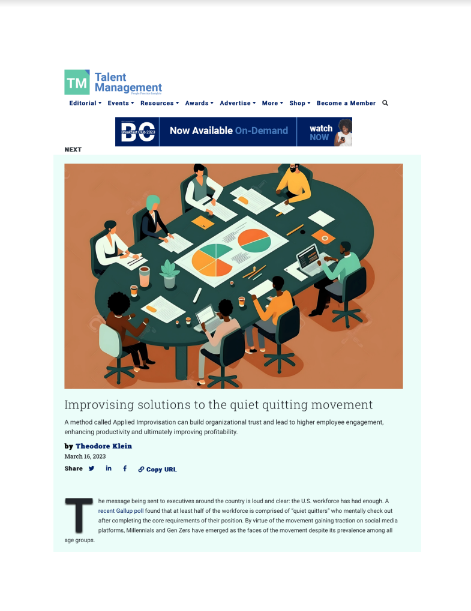 Improvising solutions to the quiet quitting movement
Talent Management (www.talentmgt.com)
March, 2023
The message being sent to executives around the country is loud and clear: the U.S. workforce has had enough. A recent Gallup poll found that at least half of the workforce is comprised of "quiet quitters" who mentally check out after completing the core requirements of their position. By virtue of the movement gaining traction on social media platforms, Millennials and Gen Zers have emerged as the faces of the movement despite its prevalence among all age groups.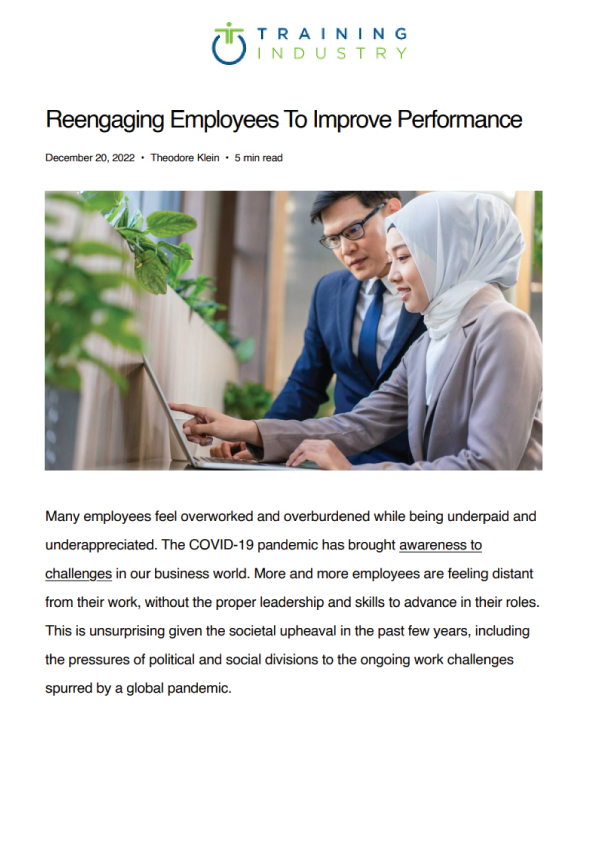 Reengaging Employees to Improve Performance
Training Industry (www.trainingindustry.com)
December, 2022
Since the Covid-19 pandemic, ongoing polling shows that workers are increasingly disengaged with their work environment. When "quiet quitters" account for 50% of the workforce, what can companies do to enhance employee trust and, in turn, increase productivity? Many companies are leveraging Applied Improvisation (AIM), an experiential learning process that uses improvisational principles like initiation, vulnerability, and creation for a business setting. AIM techniques have been written about in the has been co-signed by Harvard Business Review, the Wall Street Journal, Fortune, Forbes, among other preeminent business journals. It has been proven to build trust, enthusiasm, and workplace collaboration. Read the full article to explore how AIM is being used to enhance organizational capability.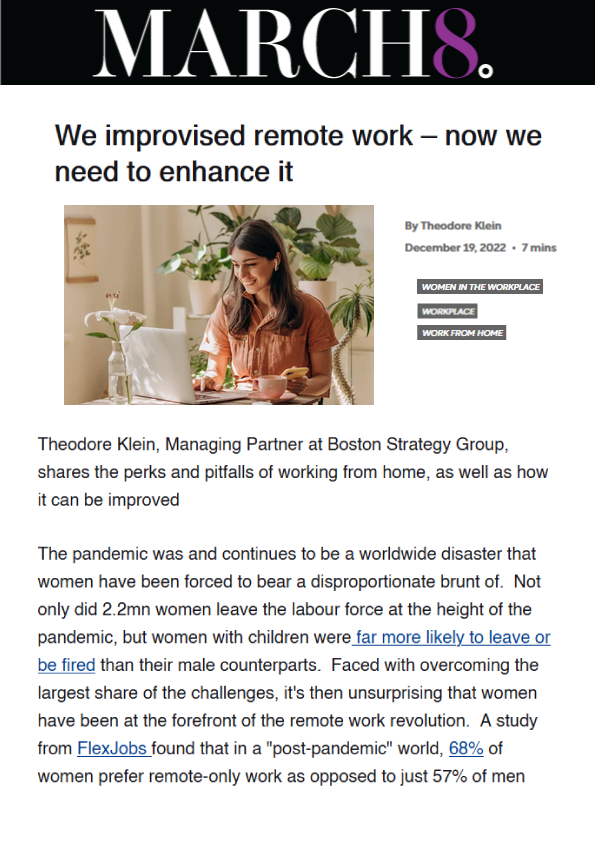 We improvised remote work – now we need to enhance it
March 8 (www.march8.com)
December, 2022
Remote and Hybrid work structures have taken off, but data shows that there is a large gender gap when it comes to remote work preferences. While women prefer the remote environment more often than men, it also appears that women can be interrupted much more on professional communication tools like Zoom and Teams. Applied Improvisation, which ingrains collaboration into its practice, can be a great solution to conversational inequality. Download the article to read more about how AIM can ensure that more women in the workplace are both heard and valued.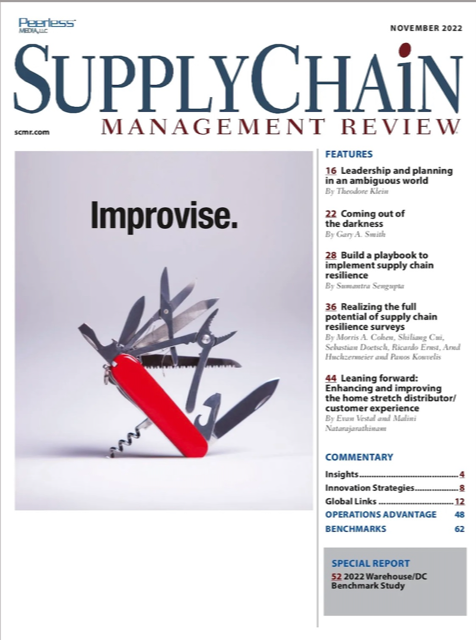 Leadership and Planning in an Ambiguous World
Supply Chain Management Review (www.scmr.com)
November, 2022
The accelerating pace of business change requires executives to no longer rely solely on formal business planning. With stability being a thing of the past, navigating this new world clouded by ambiguity requires an innovative approach to crisis planning leadership. Through the adoption of the values and principles that AIM is based on, business executives will enhance their abilities to embrace uncertainty and react accordingly to unforeseen situations. In doing so, executives will reshape their approach to leadership to effectively address modern challenges and ready themselves for the next unavoidable crisis.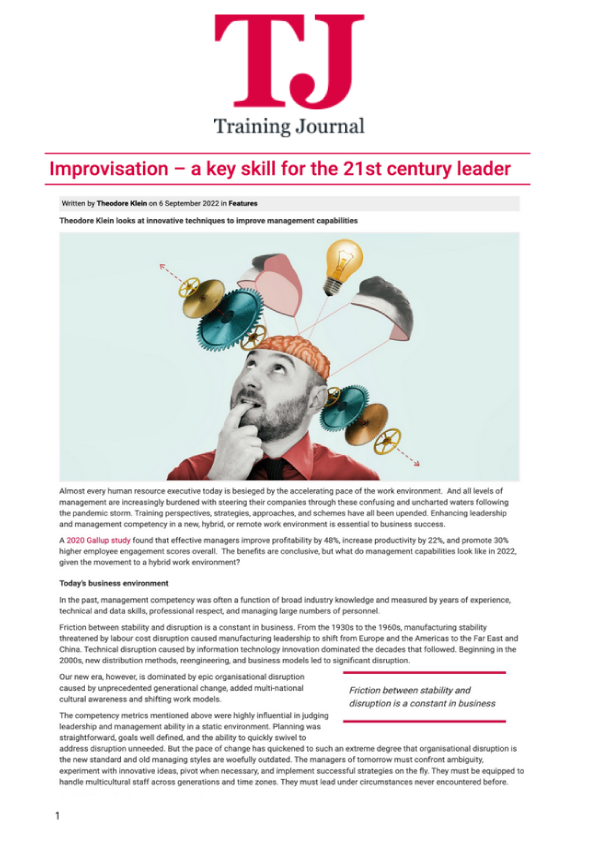 Improvisation – a key skill for the 21st century leader
Training Journal (www.trainingjournal.com)
September, 2022
Almost every human resource executive today is besieged by the accelerating pace of the work environment. And all levels of management are increasingly burdened with steering their companies through these confusing and uncharted waters following the pandemic storm. Training perspectives, strategies, approaches, and schemes have all been upended. Enhancing leadership and management competency in a new, hybrid, or remote work environment is essential to business success.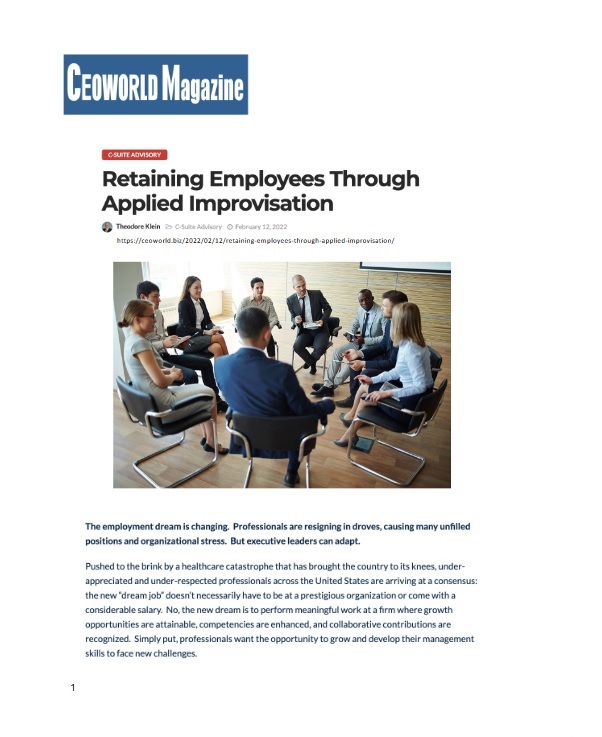 Retaining Employees Through Applied Improvisation
CEO World Magazine (https://ceoworld.biz)
February, 2022
In response to a once-in-a-lifetime pandemic that forever disrupted the U.S. economy, professional staff in all sectors abandoned their positions at historic rates. Despite bonuses and various incentives, companies at all levels have struggled to retain exemplary staff, resulting in reduced productivity and heavy financial losses. Professional staff are looking for opportunities for growth and to develop their skills, and these desires can be fulfilled when an organization implements applied improvisation techniques at the top. By using AIM programs to improve leadership, build camaraderie, boost employee esteem, improve remote work, and reduce personal stress, organizations will be better suited to retaining valued individuals.
Theodore Klein On The Labor Shortage & The 5 Things We Must Do To Attract & Retain Great Talent
Authority Magazine (www.medium.com/authority-magazine)
February, 2022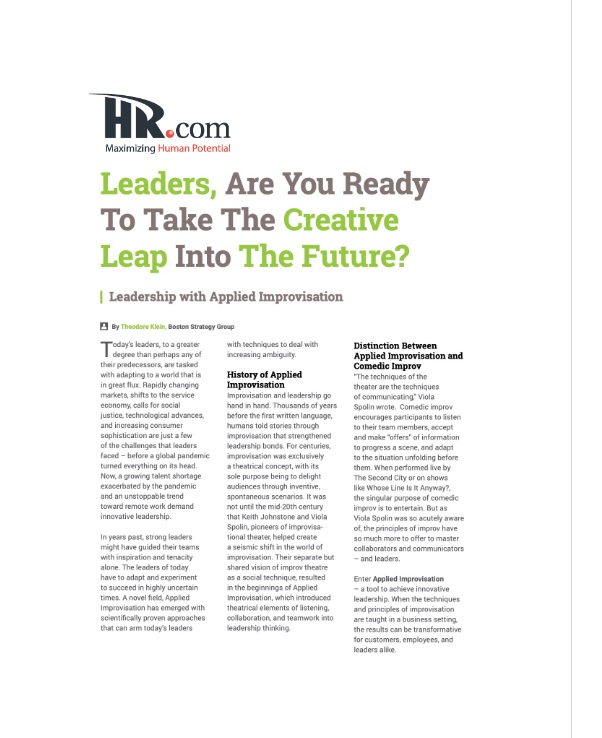 Leaders, Are You Ready To Take The Creative Leap Into The Future?
Leadership Excellence Magazine (www.HR.com)
December, 2021
The leaders of today have the unenviable task of adapting to a world that looks remarkably different than it did even just a few years ago. Innovative leadership is a necessity for navigating a challenging landscape that is being shaped by technological advances, social justice causes, and a worldwide healthcare calamity. Inspiring today's leaders to embrace new management techniques can be as simple as harnessing the scientifically-proven benefits of AIM programs to build interrelationships and encourage staff to collaborate, communicate, and adapt in the moment.